Wasn't I just typing up last week's What I Ate Wednuesday post? Seriously where has this summer gone? This is already my last full week of camp. Pure craziness I tell you. Onto the food!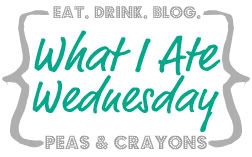 Breakfast
yogurt with PB2, a baked Quest bar, and granola IAJ
This breakfast doesn't really get old. It's so good. You're probably sick of seeing it. Sorrynotsorry ;) Coffee on the side too.
Lunch
grilled tilapia with a baked sweet potato + an [unpictured] apple
That picture is actually my dinner from last night, but I packed the same thing for lunch yesterday :) Such a good meal!
I may have eaten a few of those seen above (but chocolate cake with chocolate frosting :) ) that we decorated during camp. I remember making those when I was younger for birthdays. Such a fun treat.
Snack
After the gym I was a little hungry and not quite ready for dinner so I had a KIND bar. It was all melty from being in my backpack all day and it made it taste even better.
Dinner
zucchini bread + scrambled eggs with roasted vegetables 
I was looking through my old blog posts (does anyone else ever do that on their blog??) and came across a meal I used to eat a lot last year. I made a batch of zucchini bread on Sunday and have been enjoying it daily since. One of my favorites!
Snack
oatmeal squares, blueberries, AB cup, and almond milk
Picture is from a few weeks ago (also I wasn't watching OTH this time, hehe), but it was basically the same, except this time it was a homemade almond butter cup. Which in my opinion, taste even better than the real thing ;)
Have a lovely Wednesday<3
xo,
Molly