Let's hop right to it, shall we? Happy WIAW!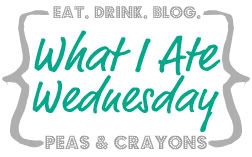 Breakfast
peanut butter oats with blueberries, walnuts & chocolate chips + iced coffee with soy
With yesterday's high only about 70*, I knew warm oats would be the perfect breakfast for a chilly morning. I hadn't had them in forever, and they tasted amazing, especially since I had an almost empty peanut butter jar ;)
I stopped by DD on my way to work and picked up a medium decaf coffee. Just a heads up, any size of hot coffee is only 99 cents for the month of July!
Lunch
homemade veggie burger, carrots + guacamole, and an apple
When lunch rolled around none of the food I packed sounded all-that appealing. Don't you hate when that happens? Of course I still ate it though ;)
Snack(s)
(recycled pic) dark chocolate cherry cashew KIND bar
Usually I wait until after swimming to have a snack, but I was hungry only a couple hours after lunch. During literacy time I snacked on one of my favorite flavors of KIND bars.
After I got off work, I ran for a little while in the beautiful weather before heading home. I stopped by Kroger to pick up something for dinner as well as a Suja juice. I saw they were buy one get one free so snagged a couple of them.
I drank one of those, as well as had a spoonful of almond butter to tie me over until dinner.
Dinner
All day yesterday I was craving Italian food, so I decided to pick up my favorite frozen pizza from the store on my way home. Amy's Margherita pizza tastes like it came from an Italian restaurant. Hands down the best frozen pizza in my opinion. On the side I also had a can of cream soda flavored Zevia. Also the best.
Dessert
I was still a little hungry after dinner so about an hour later I had a small bowl of Greek yogurt that I froze for a little while, mixed with PB2, a Reese cup, and some granola. Hit the spot :)
Enjoy your day<3
xo,
Molly