So tomorrow is Thanksgiving..? Where has the rest of 2013 gone. Like, seriously. It feels like I blinked and it was already past me. Almost one month until it's 2014. That scares me a little. Okay end tangent about nothing relating to this post.
It's Wednesday which means this post must revolve around food, right? ;). I know this time of year can be tricky for a lot of people. We get worried about eating too much on Thanksgiving and try to "save room" for it by eating little the days leading up to it, or spending hours in the gym to help burn off some of those calories. I know I've been in that place before. Every where you turn you see magazines, TV shows, or even blogs giving advice on "splurging", how to burn off all that pumpkin pie, etc.
I used to get stressed about the holidays (and I'd be lying if I said l don't still sometimes). I was afraid if I ate "more than I should" I'd gain 20 pounds in one sitting and blow up like a balloon. I'm glad I've moved past that, but I know there's still a lot of worry this time of year which is just silly if you think about it. Thanksgiving is one day and one day is not going to ruin your healthy lifestyle. I believe everything in moderation. If we go into Thanksgiving with that mindset I think we'll be in a better place.
Gina from The Fitnessista always talks about "aim to maintain" this time of year on her blog. I think it's so true. If you tell yourself your going to go on a diet and work out 7 days a week leading up to Thanksgiving and Christmas, you're most likely going to set yourself up to fail. This is the time of year to enjoy those treats and spend more time with family and friends, not being stuck in the gym for hours upon hours. I don't think you need the start of a new year to start a new goal like losing weight or adopting a healthier lifestyle, but I also think you should just enjoy this time of year. After all, it only comes around once
So this year, I'm just going to aim to maintain my lifestyle and maybe kick things up a notch after all the pumpkin pie and sweet potato casserole is gone

Without further ado, here are my eats from yesterday. Just normal "everyday" food that I'd eat anytime of year. No dieting or cleansing for this girl.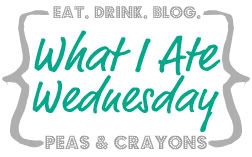 Breakfast
overnight oats with peanut butter and chocolate chips
plus coffee. coffee is a must. 
Lunch
tofu veggie stir-fry 
We didn't have any food to pack my lunch so I picked up lunch in my school's food court. This was my first time trying the stir-fry station and it was so good! I loved that they had tofu as an option. You could also pick all the veggies you wanted, as well as the sauce. Definitely need to get this again.
Snack
toast topped with banana cream sauce & chocolate chips + almond milk
I love this snack before a run. The chocolate chips are just a nice little touch and they start to melt from the warm sauce and it's just delicious.
Dinner
"in-a-hurry" tamale pie (**Jenna's picture**)
That's not my picture as my phone (aka camera) was charging while I ate dinner. This meal was so simple and delicious. Perfect for a busy weekday meal.
Dessert
steamed milk with a pump of white mocha + a cake pop
Evening Starbucks dates with the bestie are in fact the best
I also had a small handful of Cheez-Its when I came home because I felt hungry and was craving something salty. It happens.
…
Who else is going to "aim to maintain" with me?
Also, Happy [early] Thanksgiving to everyone who's celebrating<3
xo,
Molly