Monday I actually remembered to take pictures of all of my food, so today I'm sharing everything below in What I Ate Wednesday! Check out Jenn's blog to join in on the fun :)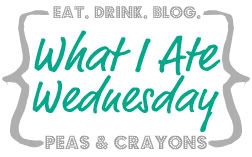 Breakfast
I didn't go to school on Monday, so I was finally able to go to my favorite yoga class that's only offered during the day. Beforehand, I had a bowl of Van's cinnamon heaven cereal with fresh organic berries, walnuts, and almond milk. I love this combination in the spring/summer. So light and refreshing. Coffee was also on the side as usual.
Lunch
Ever since Gina posted the recipe for her avocado chicken salad I've made it about three times. I had that for lunch yesterday with a side of carrots and hummus. Totally satisfying.
Snack
In the afternoon I did some homework, caught up on blogs, and worked at the daycare. Afterwards I got a little snacky so I had a baked chocolate chip cookie dough Quest bar. I'm pretty positive I could eat one of those every single day. If you haven't tried one yet, I promise they taste better than how they look. Photos do no justice ;)
It was pretty rainy all morning on Monday, but the sun finally made an appearance in the afternoon. Since they're calling for clouds and rain the rest of the week, I knew I should take advantage of the nice weather and decided to go for a walk outside. I walked a little around my neighborhood, then decided to walk around the neighborhood behind me (which is actually my sister's). She was pulling in her driveway as I was walking over, so she joined me for a 2-or-so mile walk.
Dinner
Emily asked me what I was doing for dinner and I told her I had plans to go pick up Chipotle. She and our other sister decided to join me so we all took a trip to the next town over to pick it up. I tried their new sofrita "meat" (aka tofu) in a burrito bowl and it was really good! It's ground up so it doesn't even resemble tofu and actually has a lot of flavor. I'll definitely be getting it again. Also, please tell me you've seen *this vine* (hence the title of this post). Could not be more true.
Dessert
I was really full after dinner (it's practically impossible to stop eating Chipotle even after you're full am I right…?), but I always like to end my day on a sweet note. I had a date stuffed with peanut butter and it did the trick :)
…
Overall a pretty good day of eats! Have a lovely Wednesday<3
xo,
Molly